As part of Fotografia Europea 2013 the Municipality of Reggio Emilia and aBcM are organising HOST, with the VII Photo Agency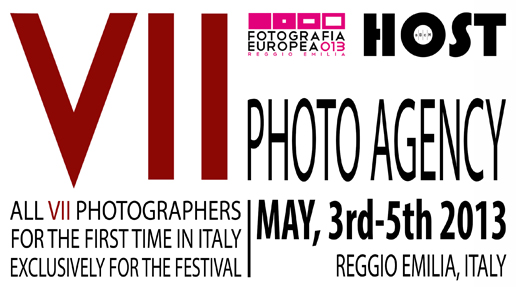 HOST launches a series of initiatives aimed at the public of Fotografia Europea, with a direct exchange with the 23 photographers of VII.
Fotografia Europea 2013 meets VII Photo. The Municipality of Reggio Emilia, in partnership with aBcM, presents the HOST project, and invites the VII Photo Agency to bring its Annual General Meeting and its great photographers to our town.
HOST is a new section of the festival that includes a partnership with one of the most important international photo agencies, to enrich the opening days with initiatives, meetings, screenings and workshops aimed at a public interested in photography d'auteur, photo journalism and editorial, exhibition and arts activities in general, which are part of the mission of VII and its photographers.
HOST offers an exclusive opportunity to encounter and discover an internationally renowned agency through a calendar of activities and events in which participants can personally come into contact with some of the leading figures in contemporary photography.
Activities
[two_third][framed_box]VII SHOOT | workshop (production/editing)

Friday 3rd and Saturday 4th May, 24 hours non-stop
The work of a photographer, from the preparation of a story, to research into the situations needed to tell it, the shoot and final editing. The special feature of this workshop is that participants can follow all the phases of a photographer at work, living the experience and seeing the work produced in just a few hours.
Eight "master" photographers from the VII agency and sixteen students (two for each master) will attend a 5-hour workshop divided into two activities: photographic production and editing. The output/stories will aim to present a city and its changes. The photographs taken by students of VII SHOOT will be shown on Saturday 4th May at 10 pm during the VII Night and will be part of a special edition of VII Magazine (a Web magazine).
[/framed_box]
[framed_box] VII LUNCH | Lunch d'auteur and portfolio review

Saturday 4th May 12.30 – 3.30 pm
Ten photographers from the VII Agency will lunch with seven guests, for an informal chat on a specific theme suggested by the photographer. The lunch will take place at Caffè Arti e Mestieri and will be prepared by chef Gianni D'Amato.
Lunch will be followed by a shared portfolio review.
[/framed_box]
[framed_box]Guests are encouraged to bring portfolios for discussion.
[/framed_box]
[/two_third][one_third_last][framed_box]
REGISTRATION AND PRICE
VII SHOOT | Send a portfolio of 10/15 photographs together with the completed form (clik here to download) by 22nd April 2013 at 12 noon to info@abcmprogetti.net
price 150,00 euro
VII LUNCH | Book your seat by sending an e-mail with the name of the author you want to seat with by 29th April 2013 at 12 noon to info@abcmprogetti.net
price 65,00 euro
PAYMENT METHOD
VII SHOOT | Selected candidates will receive confirmation via e-mail together with info on payment methods.
VII LUNCH | Pay the submission fee of 45 euro (you will complete your payment at the lunch) via paypal at biz@viiphoto.com  after you will receive an e-mail confirming your reservation.
[/framed_box][/one_third_last]
EVENTS
 •  VII UNCOMMISSIONED | multimedia screening  •  
Saturday 4th May from 3 pm – 7 pm – AlCorso Cinema | A continual screen of the 10 best multimedia products by VII photographers, followed by a talk with their creators.
 •  VII NIGHT | screening and debate  •  Saturday 4th from 10 pm – St. Peter's Cloister | A presentation of the agency with a video screening documenting its history. Screenings, debates and a long evening full of talks, music and an exchange of ideas, with important guests from the field of photography. With important guests from the field of photography among with Daniela Hamaui (Editor in Chief D di Repubblica), Alfredo Albertone (photo consultant Gruppo editoriale L'Espresso), Alessia Glaviano (photo editor of Vogue Italia). Screenings of work produced during the VII SHOOT.
[divider type="image"]
VII Agency | www.viiphoto.com
Created three days before 11th September 2001, VII is a photographic agency founded by seven leading contemporary photojournalists. Today the agency represents 23 photographers and has offices in New York and Paris. "We commonly describe the photojournalist as the eyes of the world, witnesses to events that we would otherwise not see. It is true in some way, but it is a simplistic definition that implies passive observation and neglects the important, active investigative function that marks great photojournalism. If we want a simple description of the world, the human race already has 4 thousand million smartphones and uploads over 300 thousand million images a day onto Facebook. This could easily satisfy our curiosity. We are obviously longing for something else. We want to do more than just see the world, we want to understand it. The most authentic spirit of investigative photojournalism infuses the work of VII, allowing us an awareness of everything it deals with. The investigative process begins by recognising the existence of a situation, followed by a thorough investigation to focus on its various aspects, and culminates in a magical transformation of the awareness gained into images. The various visual strategies used to painstakingly translate this information into photographs, are sometimes either carefully reworked, guided by an instinctive reaction or simply dictated by humour. The images themselves are as much a part of the story as their subjects …" Stephen Mayes, President of VII (from Private – International Review of Photographs #57)
aBcM Progetti | www.abcmprogetti.net | www.facebook.com/abcmprogettifotografia
aBcM is an agency that develops and produces special projects with photography d'auteur, by activating a network of professionals with experience in different areas of the arts and communication. It experiments with interaction models  and participation and social impact projects , aimed at producing reciprocal relationships between photography, art, the local area, public and private bodies and business. It is responsible for photographic projects for publishing, exhibitions and multimedia for public and private institutions. It promotes and creates training and research in the field of photography and related languages, both at home and abroad. It works in partnership with leading authors, top international photographic agencies and the best experts in the sector (including curators, art directors and editors). aBcM is a flexible structure, founded by Camilla Invernizzi and Maddalena Bregani that activates and coordinates a network of specialised professionals to guarantee maximum focus on the aims of every project.